Opending day September 5th, Labor Day. We end the season when there are no more apples left, or after the first freeze, whichever comes first! We can't predict what Mother Nature has in mind each year so check back frequently to find out which of our apple varieties are in season.
Hours
Friday, Saturday and Sunday 9 AM to 6 PM
Other weekdays are generally by appointment only, but we won't turn anyone away if we are here!


We can arrange private visits for handicapped persons during weekdays. Handicapped parking available at the end of the driveway of 394 Erickson Rd. (Please do not block garage entrances.) Wheelchairs must be able to traverse grass trails and some minor slopes. We cannot provide assistants, mentors or transportation.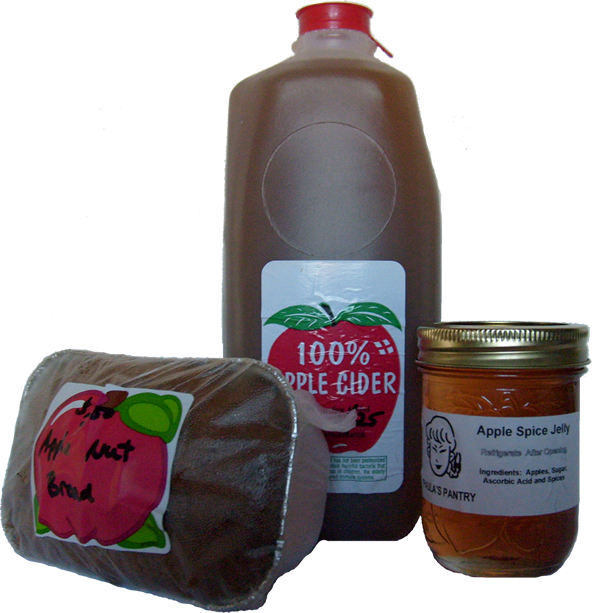 We now have apple cider and Paula has been making her jams, jellies, and bake goods.
Pick-your-own bag sizes:
1/4 Peck (about 5 good sized apples)
1/2 Peck (5 lbs)
1 Peck (10 lbs)
1/2 Bushel (20 lbs)

We grow 5 varieties of apples:
Macintosh (Early Macs are ready)
Cortland
Red Delicious
Golden Delicious
Macoun (pronounced Ma-cow-un)
Fund Raising

Need to raise money for your local organization or charity? Sell apples! We will provide bulk apples (250 lbs. or more) with or without bags at below wholesale prices for your organization or charity to resell at fairs or festivals at market price. We require two weeks advanced notice. Please call 978-386-7230 for more information. Ask for Paula.